Adding and Updating Payments
Adding and Updating Payments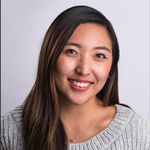 Updated by Hanna Lee
Adding and Updating Payments is only available to the Costume and Set Dec departments.
Once you've finished your Budget, you're ready to start adding and tracking Payments! 
To get to the Payments page, use the Product Switcher in the top left hand corner and click Budgeting. From the Budget, click Payments in the top navigation bar. 
Warning:
The system times out after 2 hours of inactivity. If you stop entering data and do not save your Payments before you are logged out, your data will store locally so you can pick up where you left off. You will see this when you return to the page:


Adding Payments 
The Payments page shows you all of your Payments by default. 
To create Payments, click into one of the four Payment types: 
Purchase Order: A document sent from a purchaser to a vendor that authorizes a purchase.
P-Card: Short for Purchasing Card. A card or account number that employees can use to make purchases or payments on behalf of their employer. 
Check Request: Forms that are used to request payment when an invoice is not available or was not provided.
Petty Cash: A small amount of cash used to pay small expenses without writing a check. 
For this article, we'll use a P-card. 
Click Create P-Card Envelope.
In the Create Payment form, enter all of the Payment information. 
If you want to add more lines to this envelope, click Add New Line. 
Click Save. You can always click on the envelope at a later time to add more payments.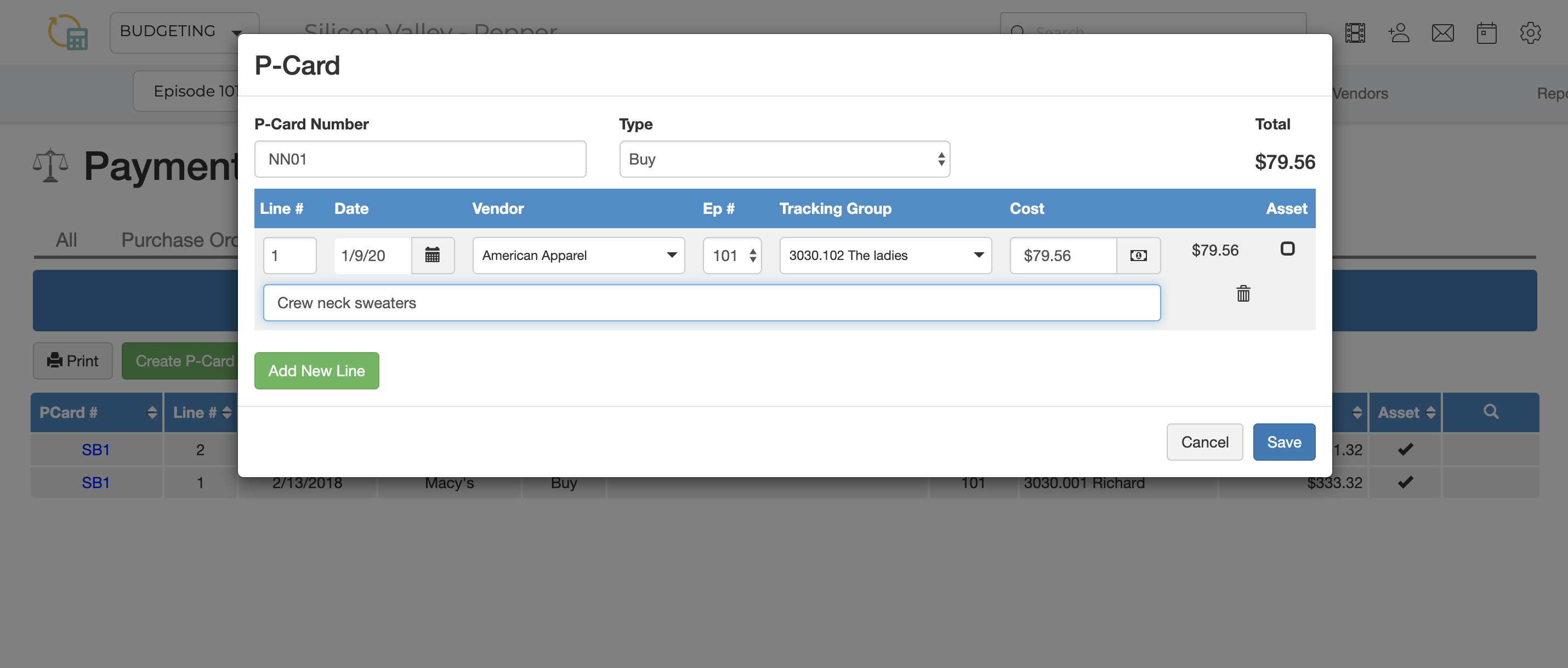 Pro Tip: When clicking into an envelope that has already been created, the Payments will order themselves based on episode number and then line number. 
---
Updating Payments 
Payments can be edited, deleted, or marked as "returned" from the Payments page of Money Tracking. Payments can also be designated as Assets if you wish to track your production's Assets.
To edit a Payment, go to the Payments Index:
Use the Magnifying Glass icon in the table header to quickly search for a specific Payment. 
Click anywhere on the Payment line you would like to update. 
Make your changes.
Click the green Checkmark button to save. 

To delete a Payment, click the red Trash Can button.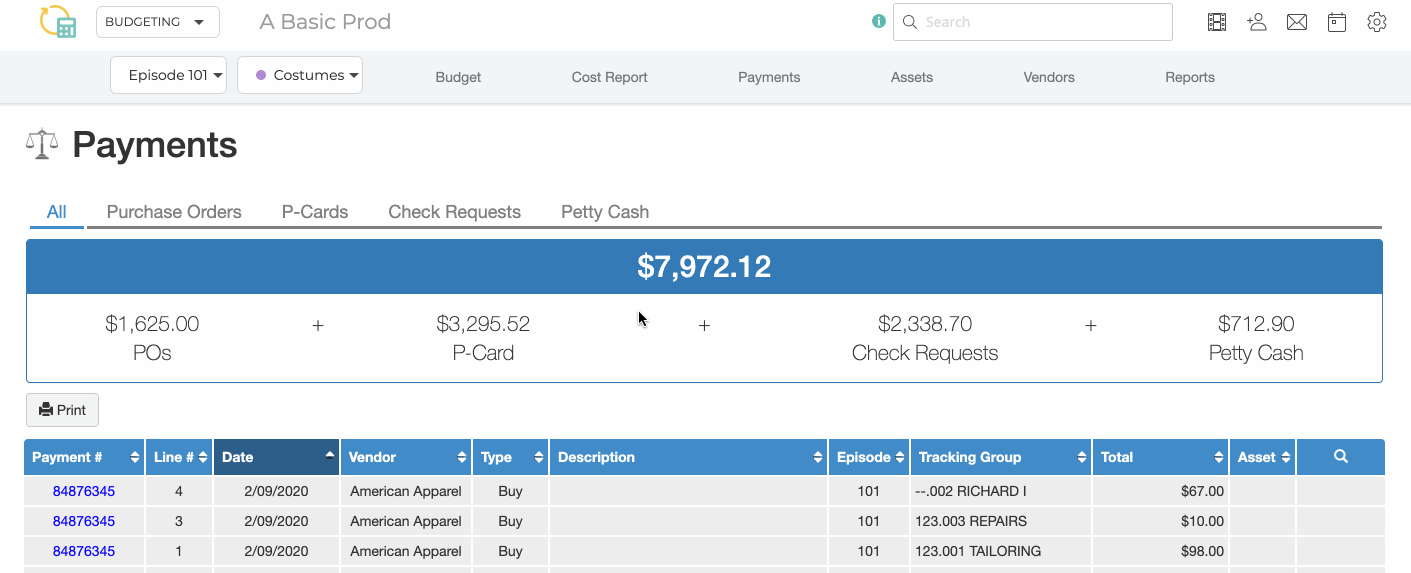 ---
Payments can also be edited from an Edit form:
Click a blue link in the Payment # column. 
Make updates and/or click Add New Line to add a new line to an existing Payment. 
Click Save.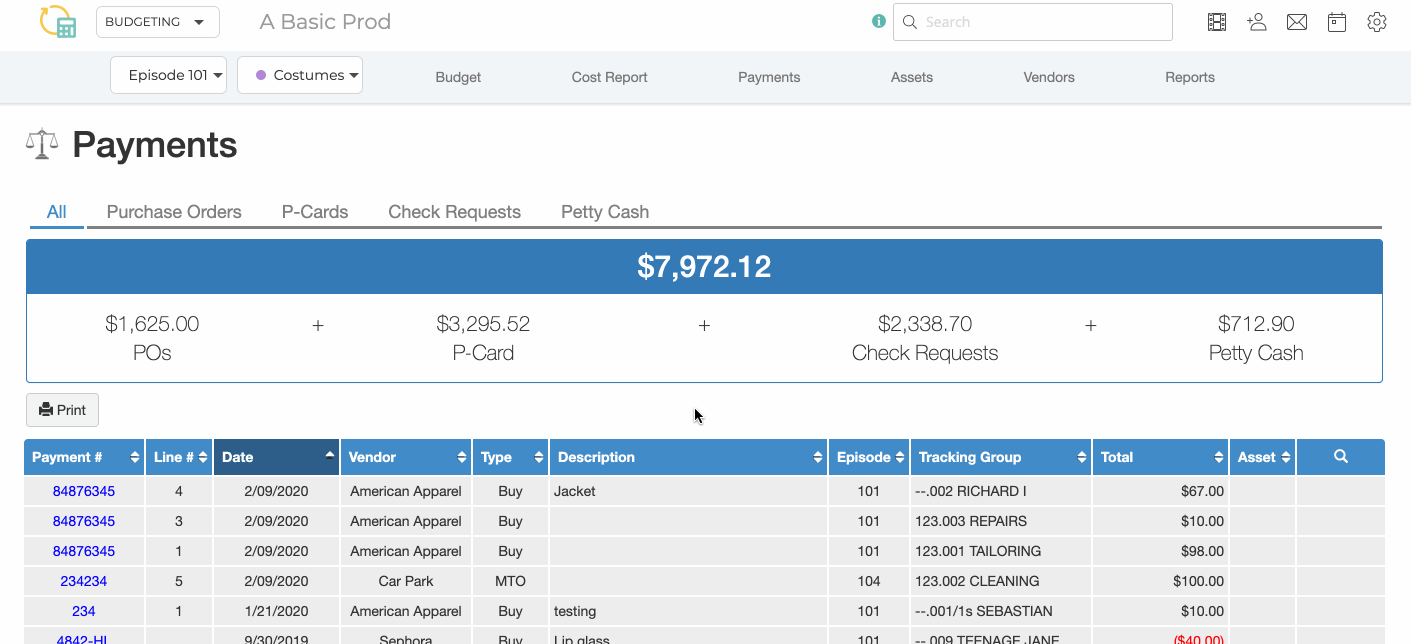 Note: To delete a Payment from the Edit Payment form, hover over the payment and click the Trash Can icon that appears. You must also click Save at the bottom of the envelope to save the deletion.
Check out Managing Returns to learn how to mark your Payments as returns.
---
Filtering and Sorting Payments
Filter and sort Payments to refine your view.
Filtering Payments
Filter by any column on the Payment Index - or filter by multiple columns. When filtering Payments, the running total at the top of the page will reflect your filter(s).
Click Payments in the top navigation bar. 
Click the Magnifying Glass icon in the table header to open search fields.
Use the search fields to refine your Payments. Filters update in real time.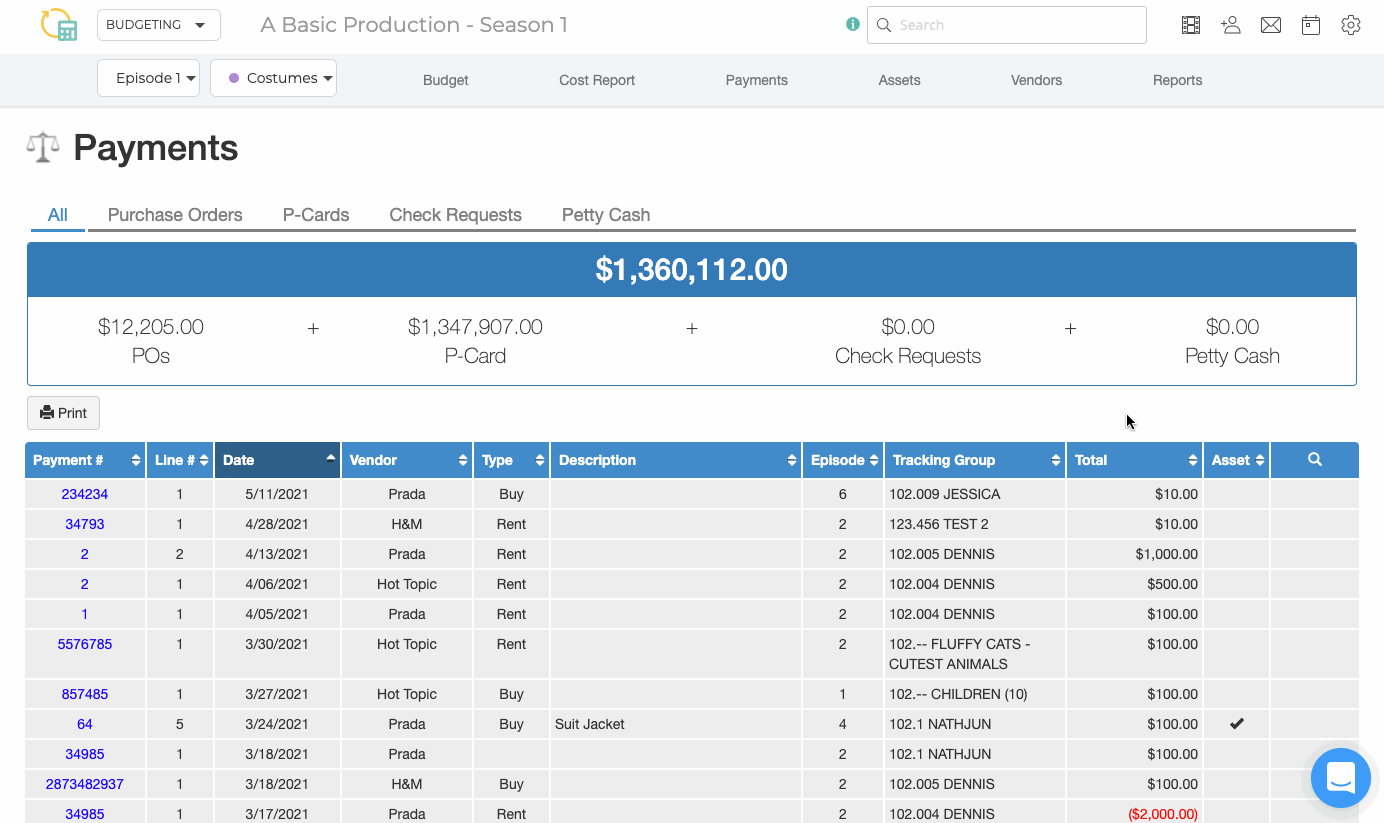 Note: To run a report of your filtered Payments, click Print at the top of the table, enter a title, then click Print.
Sorting Payments
Sort Payments by column by clicking on a column header.