The New and Improved Inventory
The New and Improved Inventory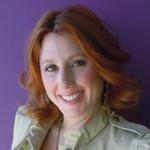 Updated by Jennifer Sneider
In SyncOnSet 5.0, Inventory exists across the entire production. It is no longer necessary to import anything on episodics.  🙌🏻 
All Inventory departments (Costume, Props, and Set Dec) share the same Inventory workflow.
The Universal Search bar has also been improved to help you find what you're looking for more efficiently. Quickly access an Inventory View page right from the search results! Click the Inventory category header to limit your results to Inventory.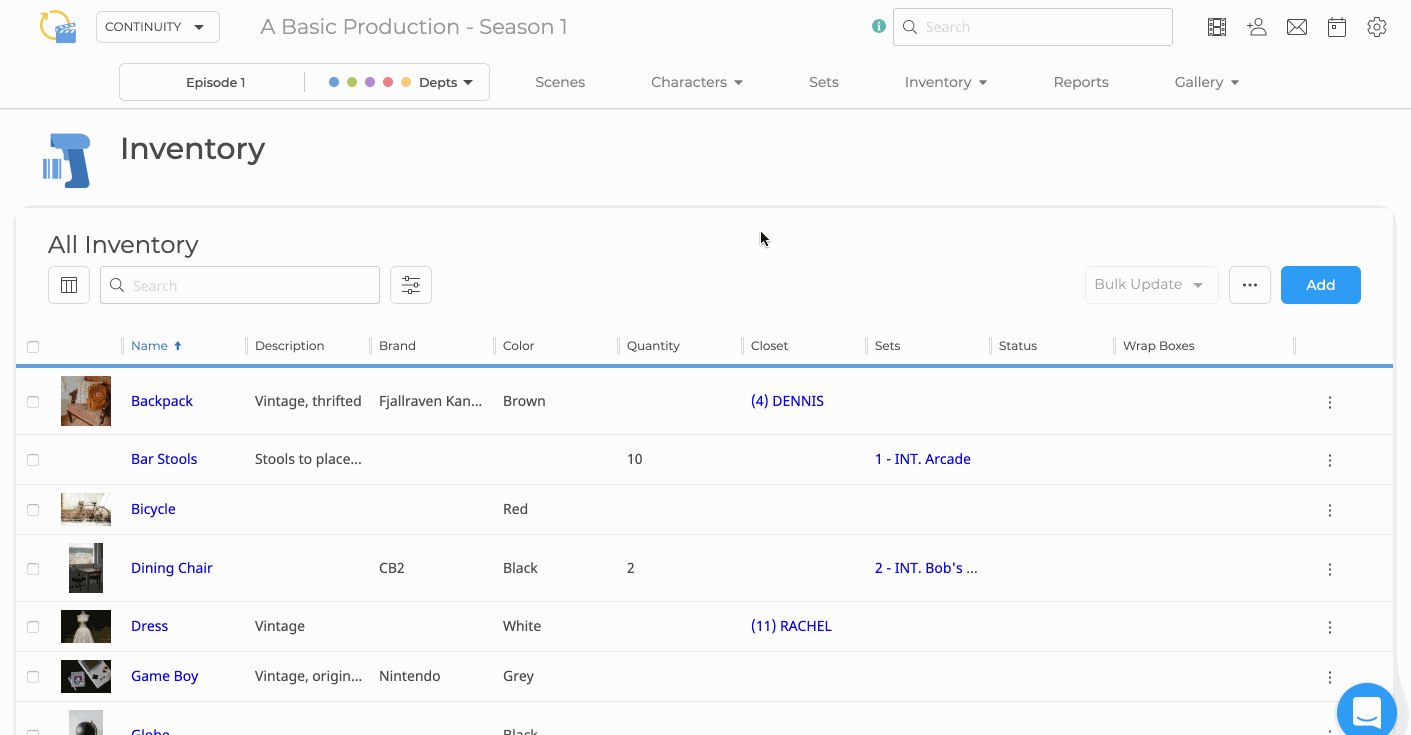 Inventory Index
All Inventory departments (Costume, Props, and Set Dec) share the same Inventory Index. If you are a member of more than one department, you can view Inventory for multiple departments at one time on this page.
You can customize columns to create an individualized table view. Use the Choose Columns button to select the columns you want to see and then rearrange, resize, and sort them according to your needs.
You will notice new data field options in the Choose Columns menu. Now, all Inventory departments can create Storage Locations, Custom Types/Categories, and Custom Statuses.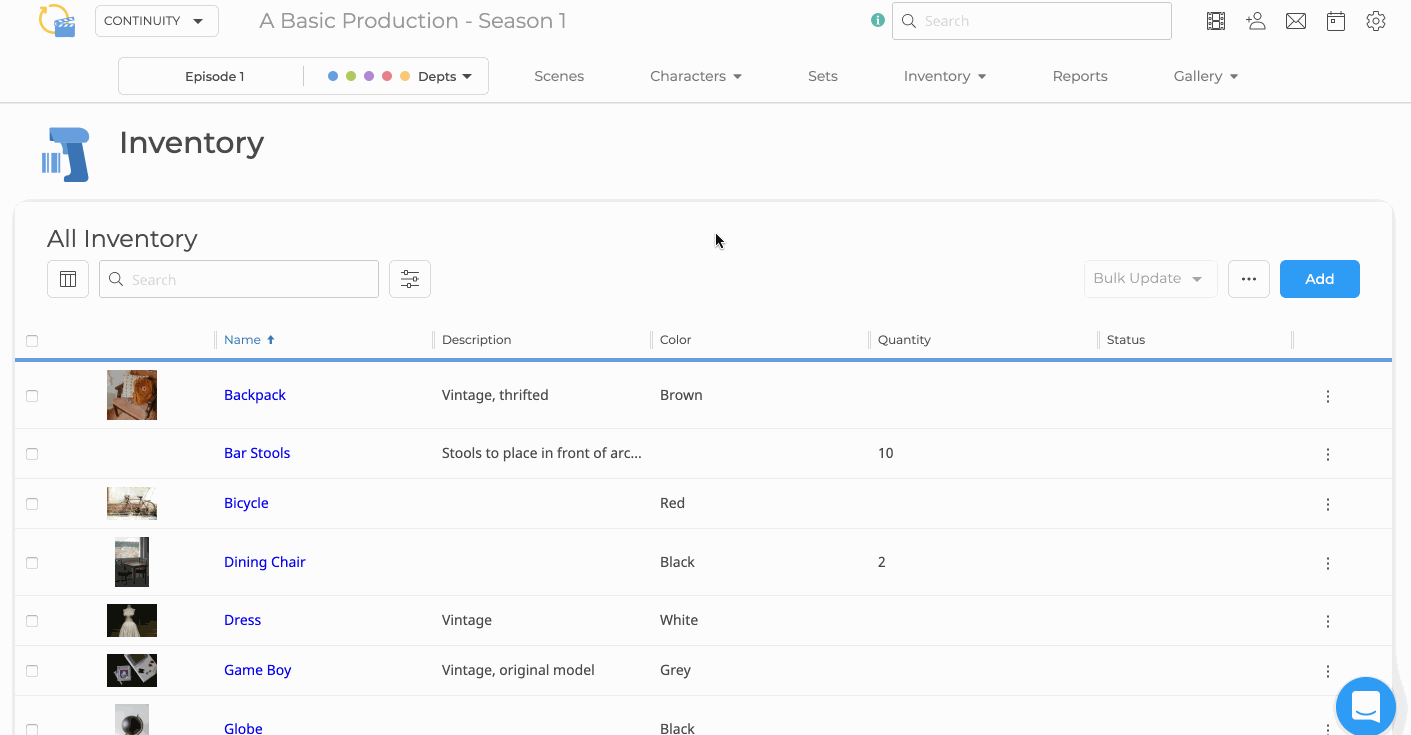 Update multiple data fields at once using the Bulk Update feature. Depending on the Inventory department, you can update the Character Closet, Category/Type, Status, Storage Location, Wrap Box, Disposition, and Set.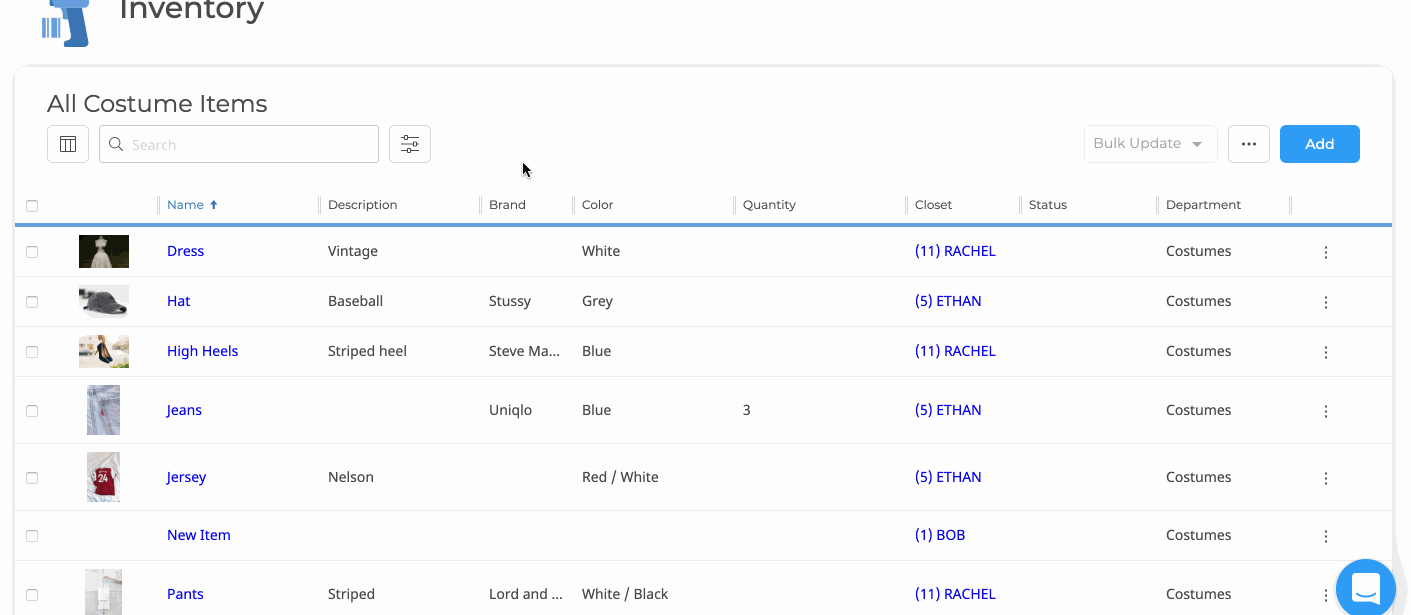 You can now wrap Inventory in multiple Wrap Boxes! For example, if you have 10 t-shirts, you can wrap 3 of 10 in Wrap Box 1, 4 of 10 in Wrap Box 2, and 3 of 10 and Wrap Box 3.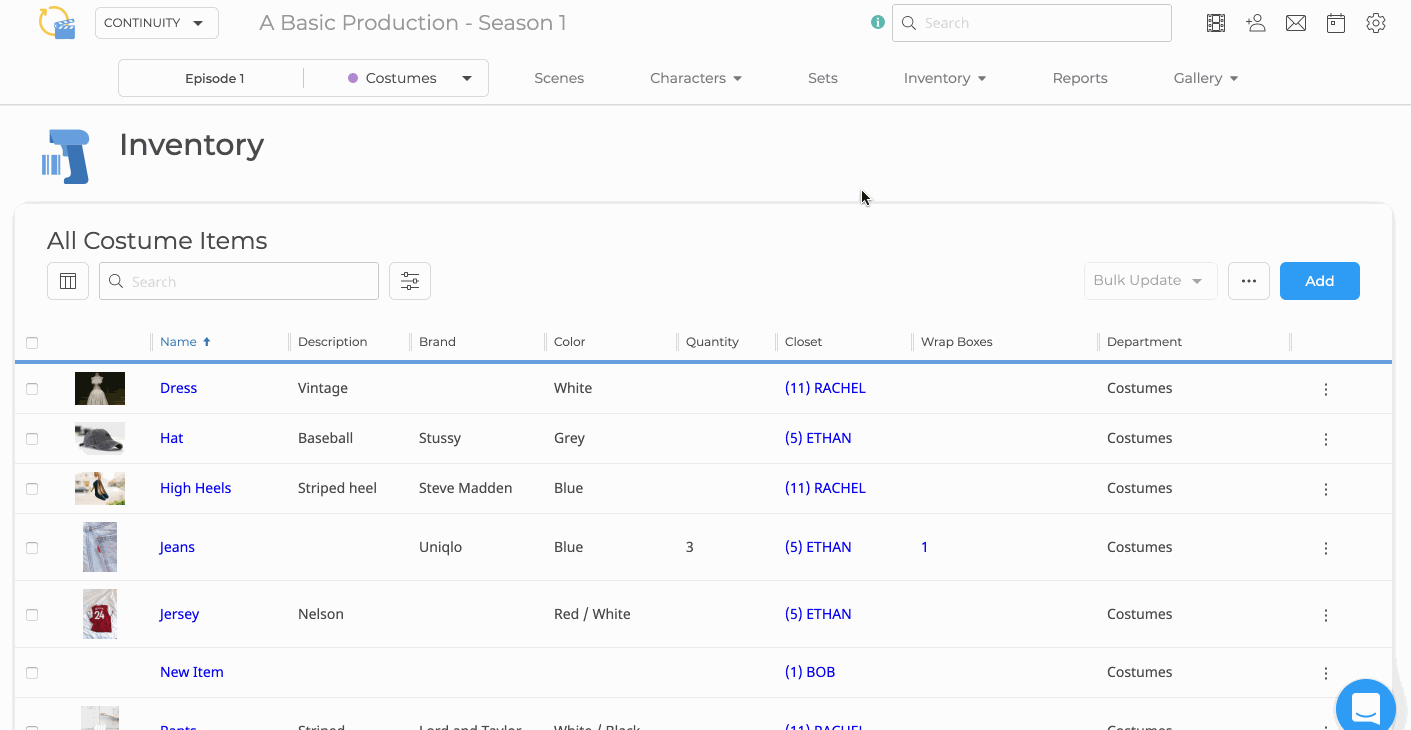 You can now export your Inventory Index as a CSV file. The report reflects your selected columns and filters and generates what you see on your screen. Check the box at the top of the table to select all Inventory, then click the Ellipsis at the top of the table, click Export and select To CSV.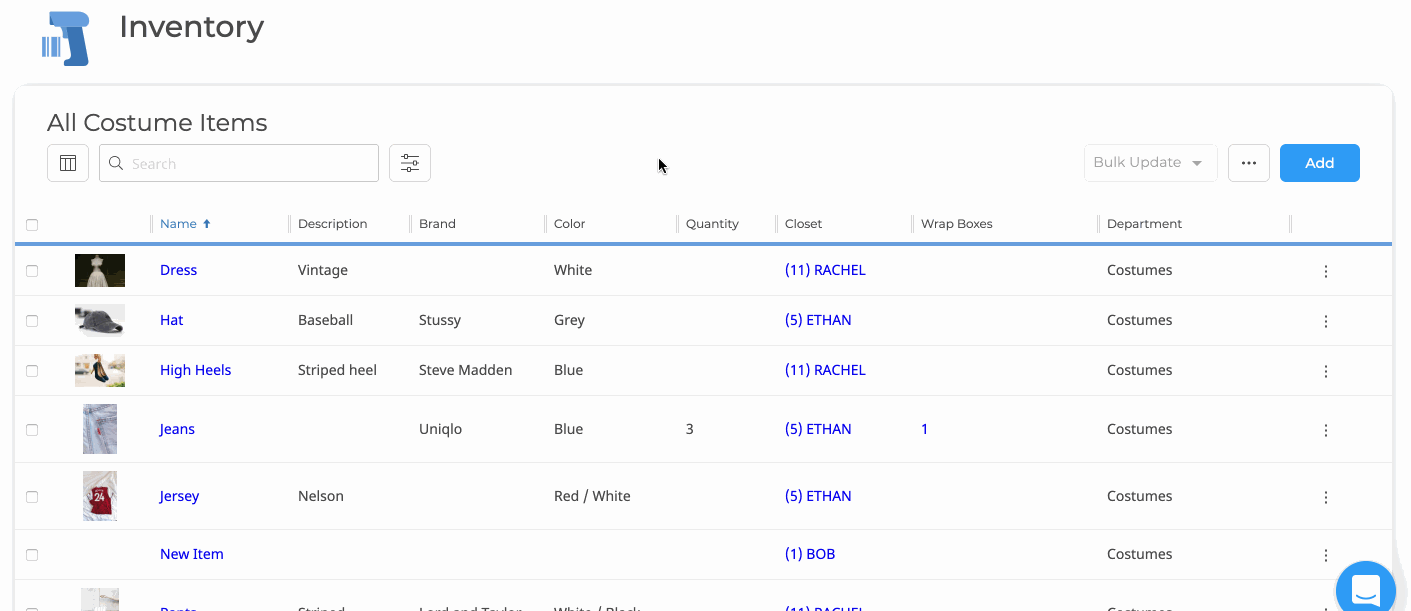 If your production is linked to Asset Hub, you will have the ability to export to Asset Hub even if the production's subscription has expired and the show is set to 'Read Only' mode.
---
Inventory View
When looking at a single piece of Inventory on the Inventory View, you will only see fields that contain data. Other fields are available and will populate the page if data is entered.
If the Inventory is from the Costume department, you see Item details and a Changes table showing all Changes containing the Inventory.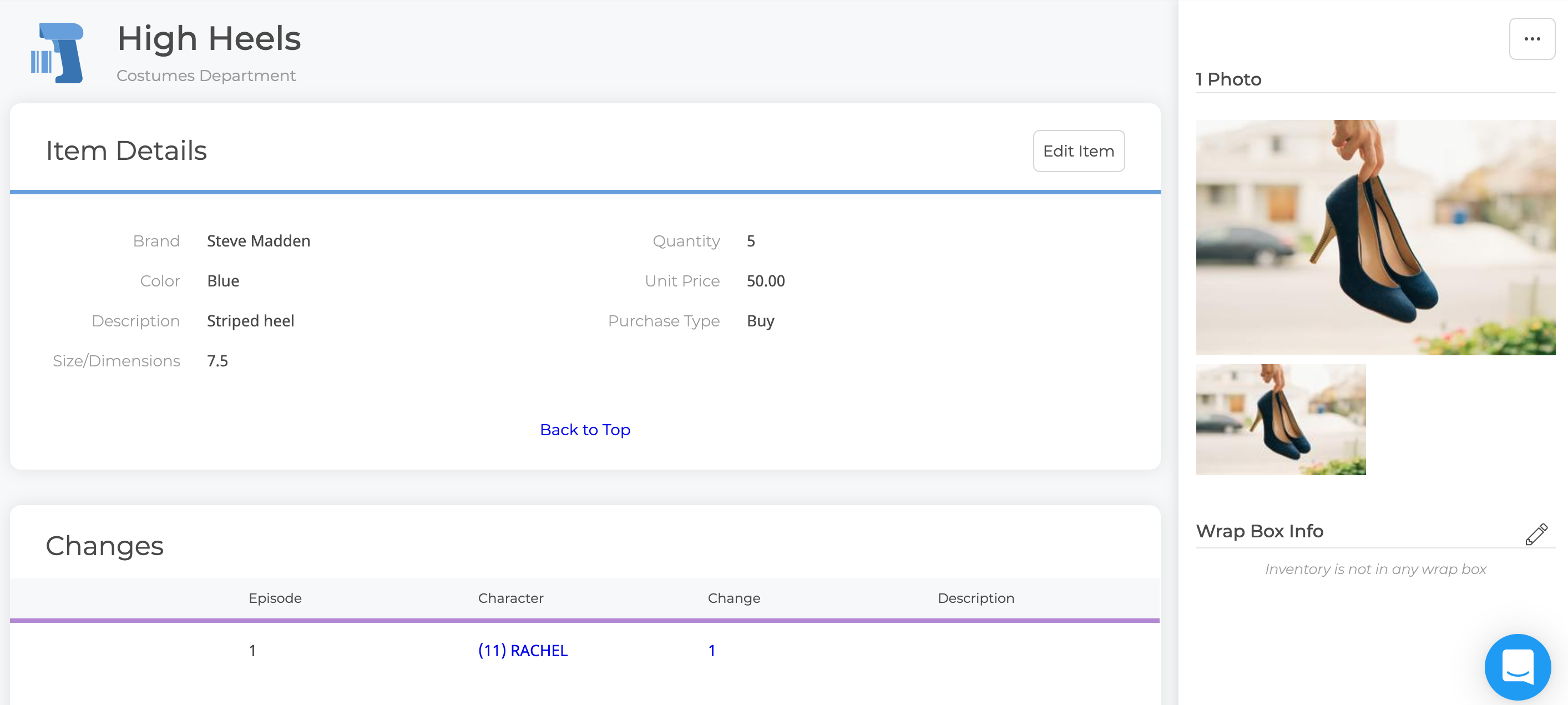 If the Inventory is from the Props department, you see Prop details and a Scenes table showing all Scenes containing the Inventory.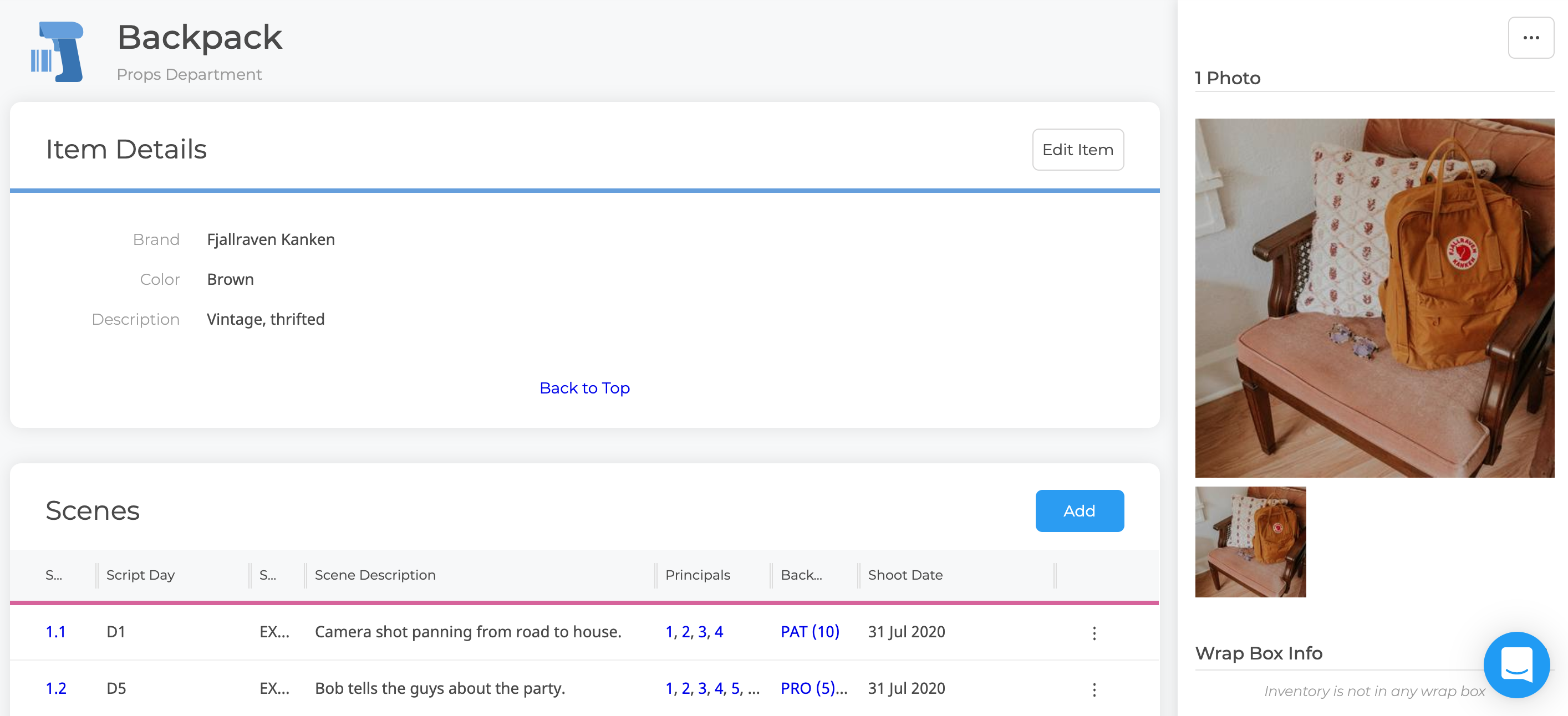 If the Inventory is from the Set Dec department, you see Set Piece details and a Sets table showing all Sets containing the Inventory, along with all Scenes for each Set.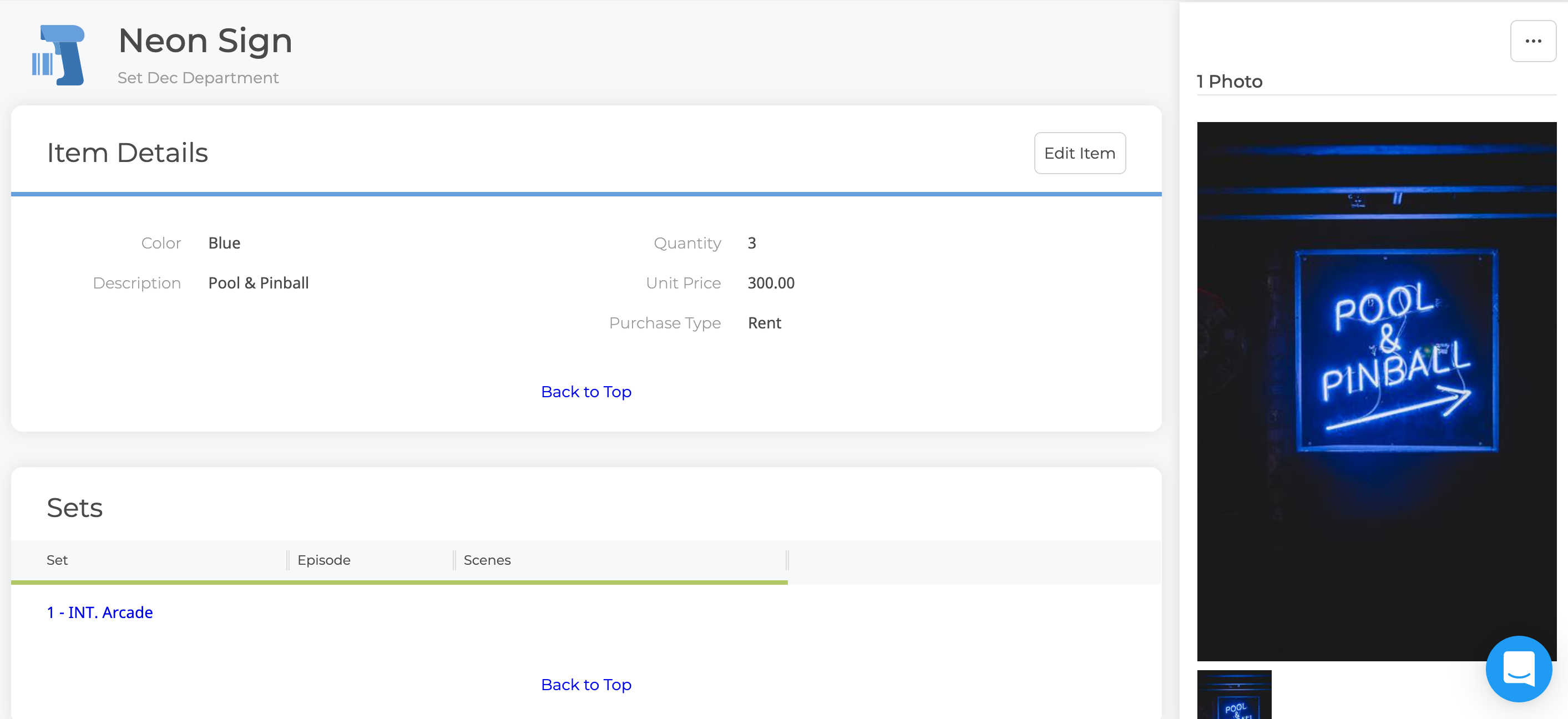 You can also wrap Inventory to multiple Wrap Boxes on this page.
---
Creating Inventory
When creating a new piece of Inventory, you can customize the Create Inventory form. Click the Gear icon in the form to choose which fields display. Select only what you want so you aren't distracted by fields you don't care about.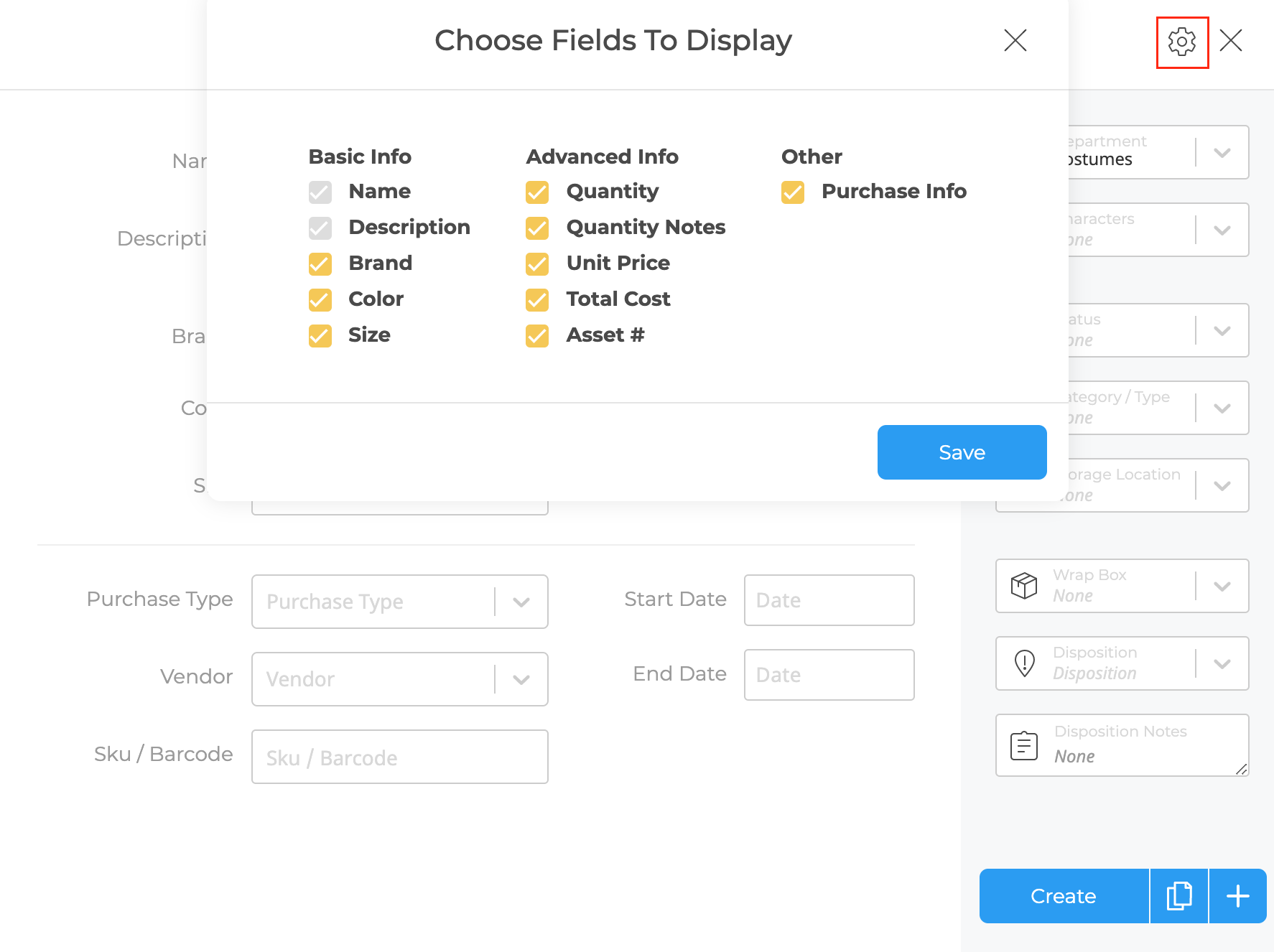 In addition to creating a piece of Inventory and then adding another from the same form, you can make a duplicate of the item. Click the Duplicate button to create a piece of Inventory without clearing the contents of the form, making it easy to create multiple similar pieces at once.