[Mobile] The New and Improved Actors
[Mobile] The New and Improved Actors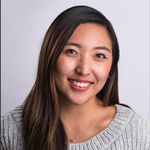 Updated by Hanna Lee
In SyncOnSet 5.0, Actors exist across the entire production. For episodics, it is no longer necessary to import Actors from episode to episode on the web app. 🙌🏻
Universal Search has also been improved to help you find what you're looking for more efficiently 🔍.  Tap Search in the bottom navigation bar to access Universal Search.
From there, use the search bar to find a specific Actor or tap Actors as a category to view a master list of all Actors in a production.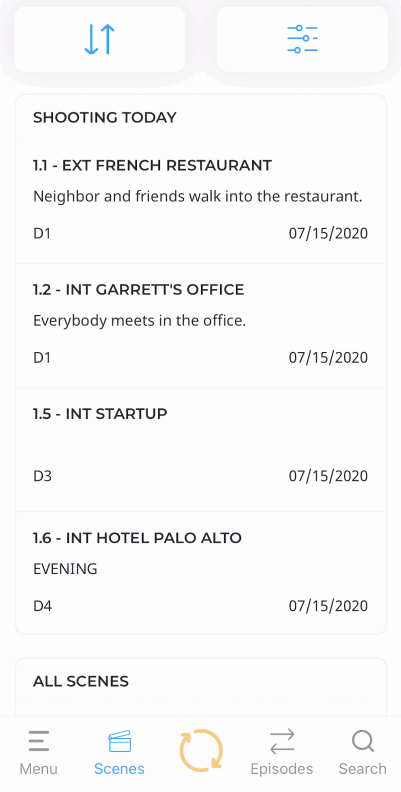 Note: You can also find the Actor Index on the Home screen. Tap Home on the bottom navigation bar, then tap Actors.
Actor View
Now you can view multiple departments at the same time! As a result, the Actor View reflects all the information for each department that is selected in the Department Selector.
For example, if you have the Costume and Makeup departments selected, you can view department notes for both departments on the same page.
At the top of an Actor View page, a top navigation bar displays multiple tabs that you can tap (or you can swipe the page to navigate between tabs). The tabs that appear depend on the department(s) you are currently accessing. 
Costume
All fitting information now lives on its own tab on an Actor View page. Tap Costume Sizes in the top navigation bar to view and edit this information.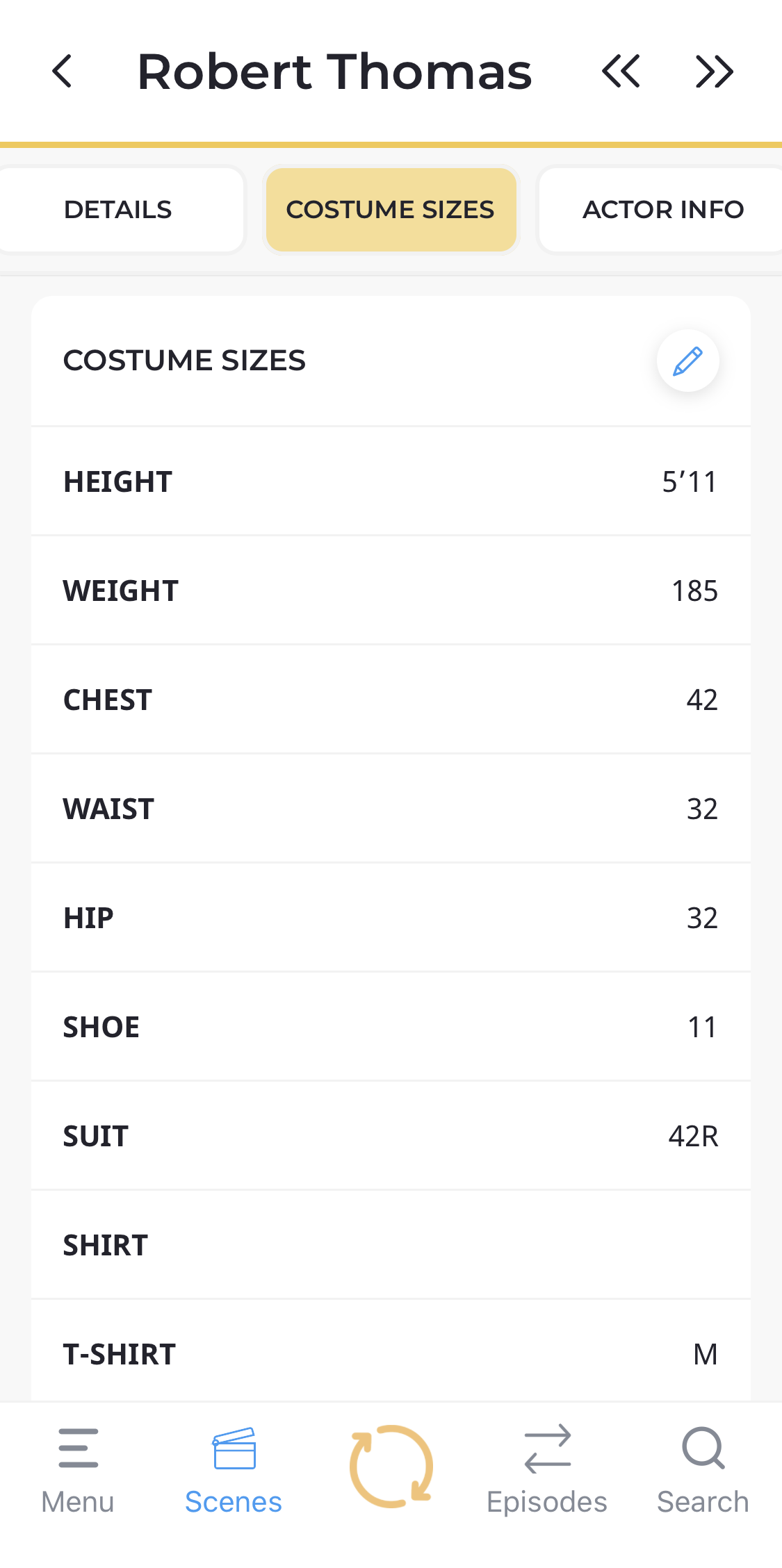 ---
Hair and Makeup
Do the Hair and Makeup teams work together as one department? If so, you can now easily view and edit all Hair and Makeup information simultaneously! Just make sure both departments are selected in the Department Selector.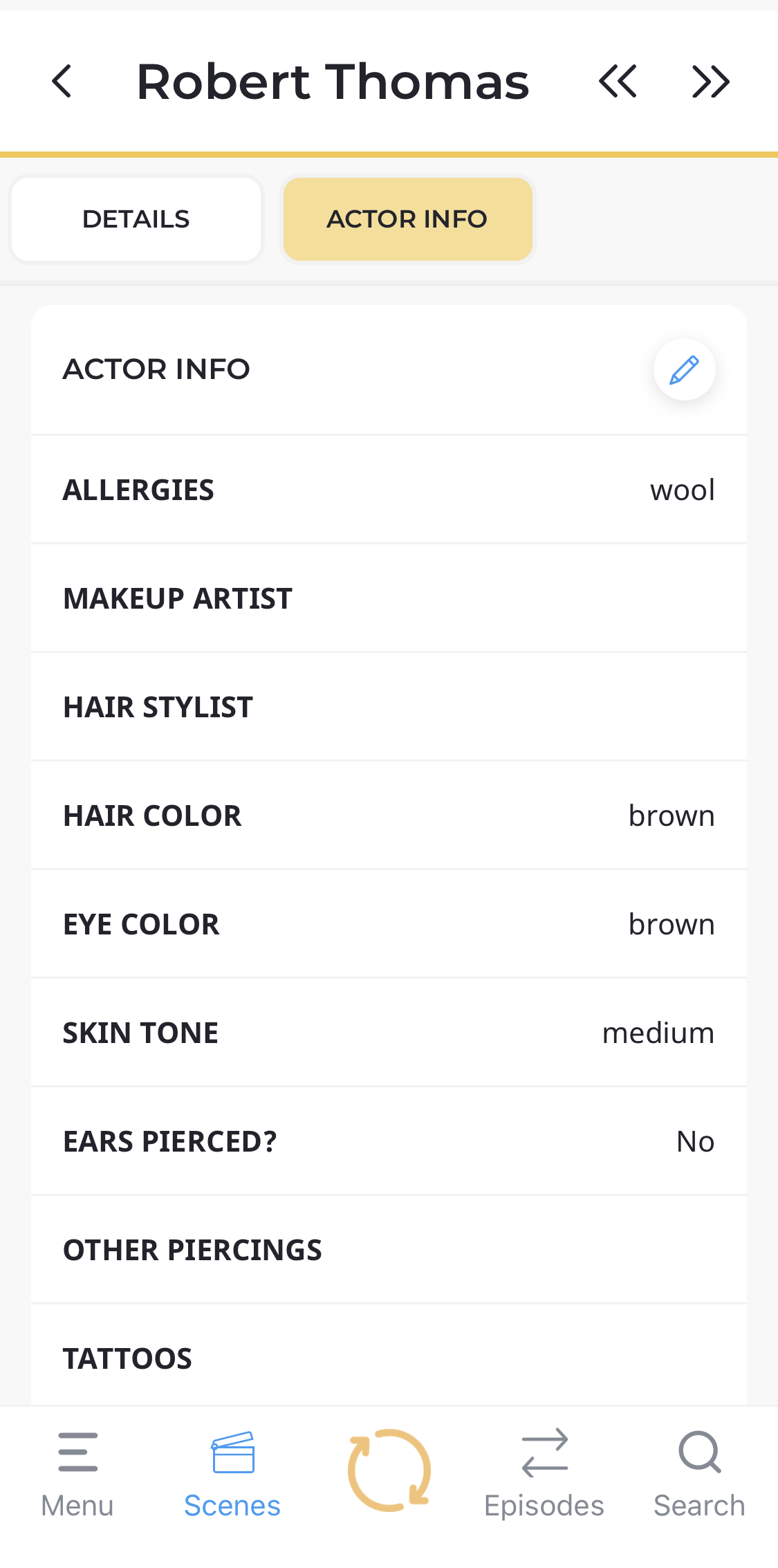 ---
Props
There are more fields available to view and edit for the Props department. 
Instead of only having ring size and allergies on the Actor Info tab, the Props department now has fields such as ears pierced, eye color, hair color, skin tone, tattoos, and more!