Updated by Natalie Nelson
The mobile app is a simplified version of our web app, designed to make life on set more efficient. Once you log into the app with your username and password, you don't need WiFi to use it, as you can work on data or even offline!
Logging In
When logging in, you will be asked to set up a PIN and given the option to set up biometric authentication (Touch ID or Face ID, depending on your device). Then, you will be asked to select your production. If you are working on a traditional episodic, you are also asked to select which episodes you would like to view at one time. Once you have selected your episodes, tap View Scenes at the bottom of your screen. 
By default, you land on the Home page. Tap Scenes on the bottom navigation bar or on the Home page Index list to go to your Scene Index.
By default, any Scenes shooting today are listed at the top and all other Scenes are listed below. Tap the Sort button to sort your Scenes by Scene number, Shoot Day, or Script Day. Tap the Filter button to filter your Scenes by shooting today, yesterday, and tomorrow. 
---
Home Page 
Tap Home on the bottom navigation bar to reach the Home page where you can quickly access the Scene Index, Character Index, Actor Index, Change Index, Hair Look Index, Makeup Look Index, Set Index, Inventory Index, Untagged Photos, and access the app Syncing Status.
From the Home page, tap the Gear icon on the top right to access the Settings and switch productions, choose a different department, or change your app settings. Keep in mind, you can only select a different department or select more than one department if you have permissions to those departments.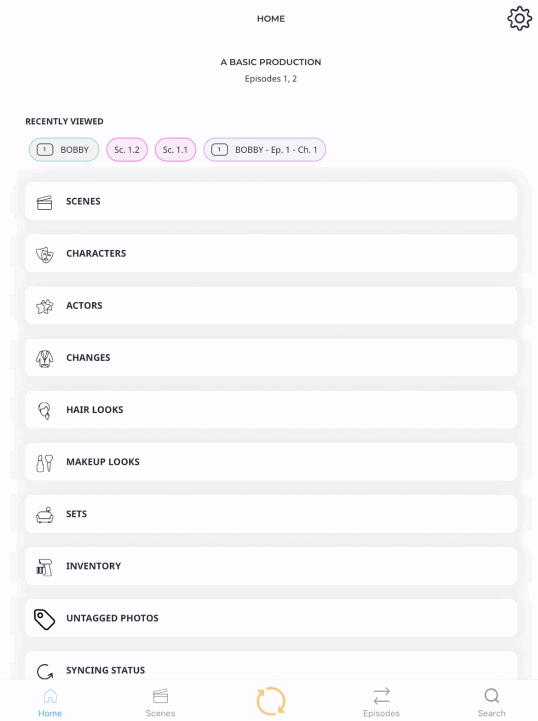 If you want to log out, tap Log Out at the bottom of the Settings page.
Note: You will need access to WiFi to log into the app again. 
---
Universal Search 
Regardless of where you are in the mobile app, you can access Universal Search by tapping Search in the bottom navigation bar. You can use Universal Search to quickly find whatever you need in your production!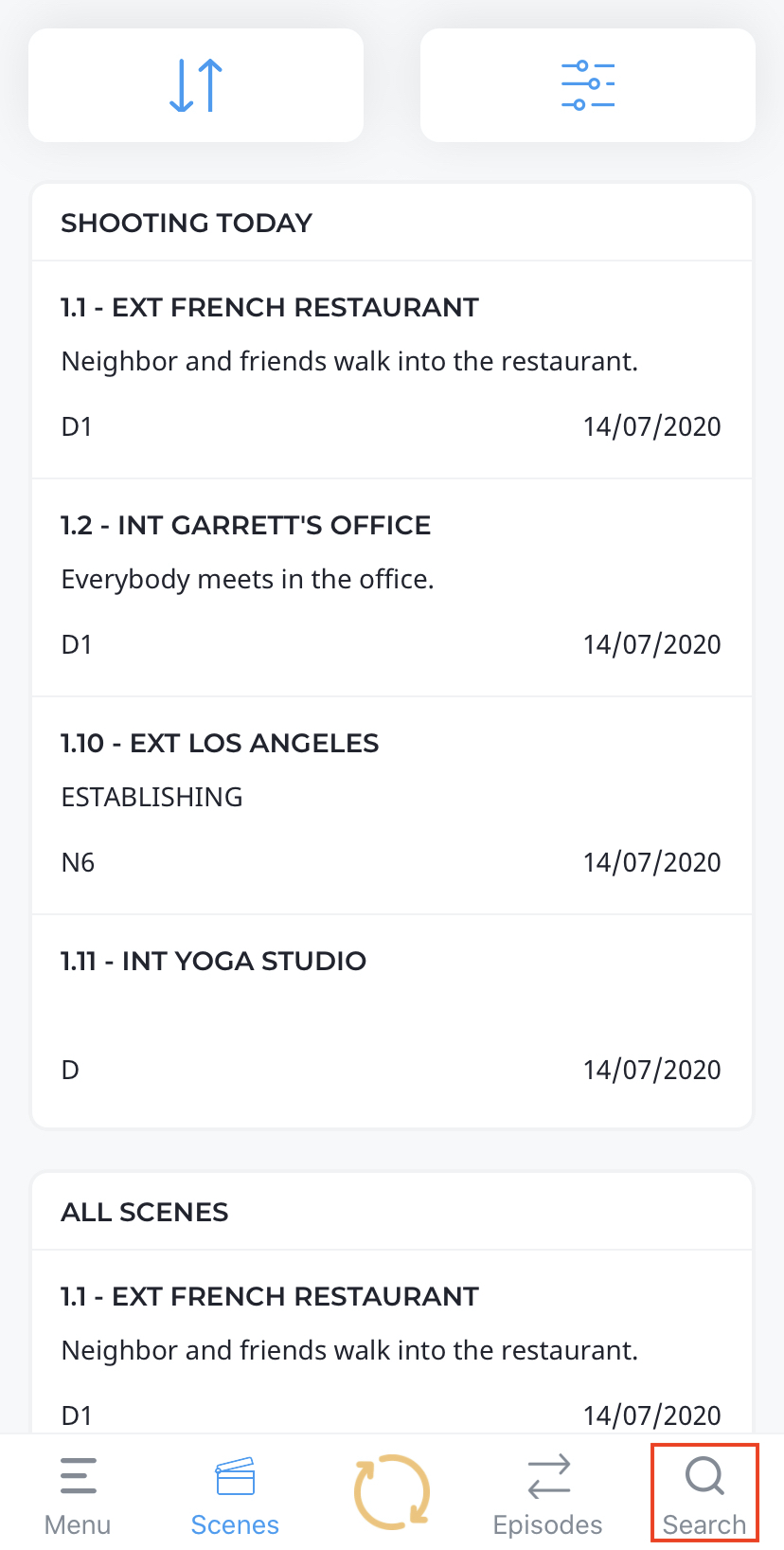 ---
View Pages
In the mobile app, View pages are where you can start creating Changes, Looks, Props, Set Pieces, and more. Tap on something to get to its View page. For example, tapping a Scene takes you to a Scene View page, tapping on a Character takes you to a Character View page, and tapping on a piece of Inventory takes you to an Inventory View page.
The top navigation bar which appears at the top of the screen contains a header. The header indicates which page you're currently viewing. Tap the left and right arrows to the right of the header to easily navigate through the respective View pages (such as Scene, Character, Actor, etc.).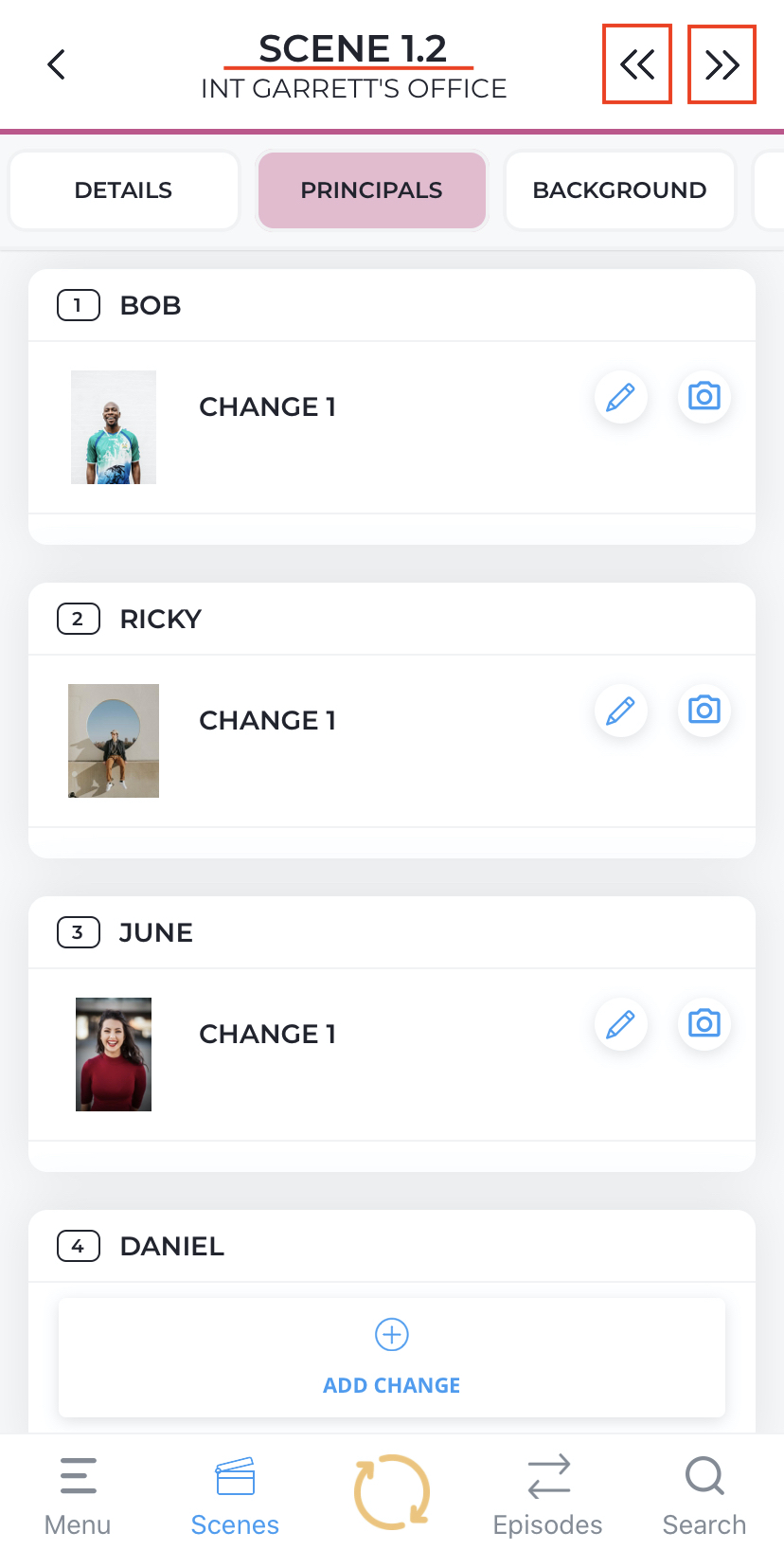 Beneath the header you'll find the navigation tabs. These tabs vary depending on what department(s) you have selected. Tap any tab for more details.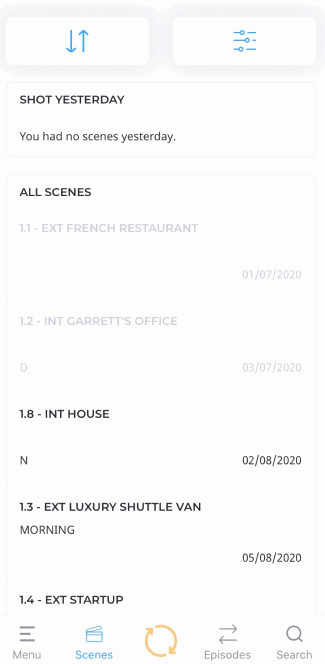 ---
Uploading Photos 
Photos can be uploaded and tagged from any page that has a Camera icon or (+) Add Photo button. These buttons exist on Scene View pages, Character View pages, Edit forms (i.e. Edit Change, Edit Prop), and more. Tap either entity to take a new photo or upload existing photos from your camera roll. 
Once you upload your photos, tap the Gallery tab in the top navigation bar to see all of the photos related to that entity.