[Mobile] Building A Change
[Mobile] Building A Change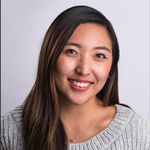 Updated by Hanna Lee
Once Changes have been created, head to a Change View page to start building out the Change. The Change View page has the following options in the top navigation bar: Details, Items, Scenes, and Gallery. 
Note: Go to the Changes tab of a Character View, head to the Change Index on the Home page, or use Search on the bottom navigation bar to quickly get to a Change View page! 
---
Details
Tap the box to add or edit the description of the Change. We recommend this be a short reference note like "Black Tie" or "Back from the beach."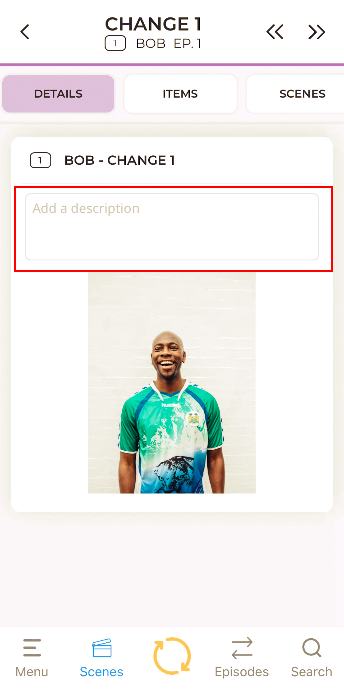 If there are photos tagged to the Change, the Main Photo will appear under the description. Tap the photo to view it in full size. From here, you can input a description, add tags, or delete the photo.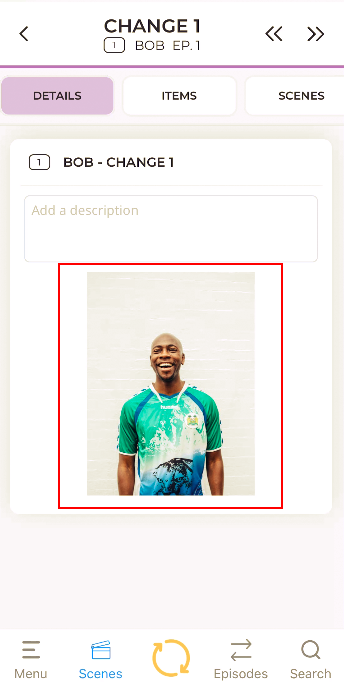 Pro Tip: You can also edit the Change number and add photos tagged to the Character and Change on the Changes tab of the Character View.
---
Items
Items can be added to a Change in two ways: creating a new item or adding an existing item.
Creating a New Item
Tap (+) Add New Item.
Enter a name of a new item.
Enter the remaining fields as needed and upload any photos. 
Tap Save.
Pro Tip: The more fields you enter, the easier it might be for someone else to locate Inventory in the future for reshoots.
Afterward, all items are available on the Items tab of a Change View page. Tap into an item to make edits or delete it. 
Adding Existing Items
Tap (+) Add Existing Item.
Tap as many pieces of Inventory as you'd like to add.
Tap Confirm.
---
Scenes
A full list of Scenes associated with the Change is displayed on the Scenes tab. Tap the box under a Scene to add or edit the Scene Wear Notes.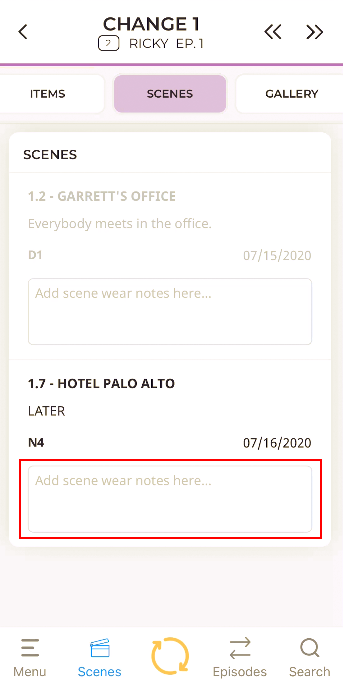 ---
Gallery 
All photos that are uploaded and tagged to the Change appear on this tab.
Tap the Filter button to switch from Continuity photos to Research photos.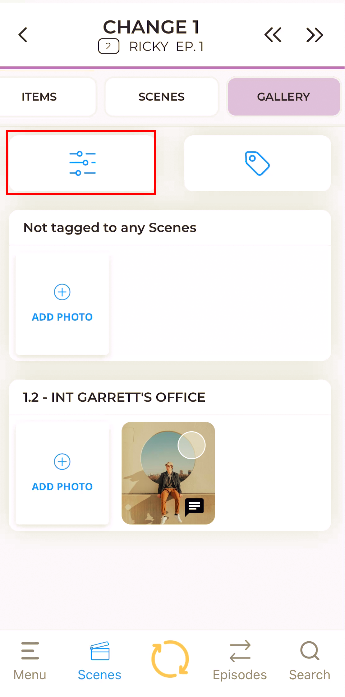 Note: You must have the correct permission to view Research photos. 
Select one or more photos and tap the Tag button to add additional tags.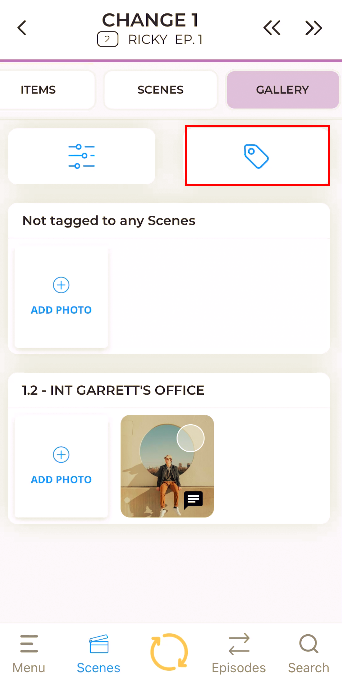 To upload photos:
Tap Add Photo under a specific Scene or under "Not tagged to any Scenes."
Take a picture or choose pictures from your camera roll.
Tap Next.
Your photos are automatically tagged to the Character, Change, and Scene (Scene tags won't appear if you upload them as "Not tagged to any Scenes"). Tap Add Tags if you would like to add additional tags. 
Tap Save. 
Pro Tip: You can also upload photos from a Character View or Scene View page.