[Mobile] Character Index Overview
[Mobile] Character Index Overview
Updated by Justin McDaniel
All Characters in your production exist on the Character Index. To access the Character Index, tap Characters on the Home page.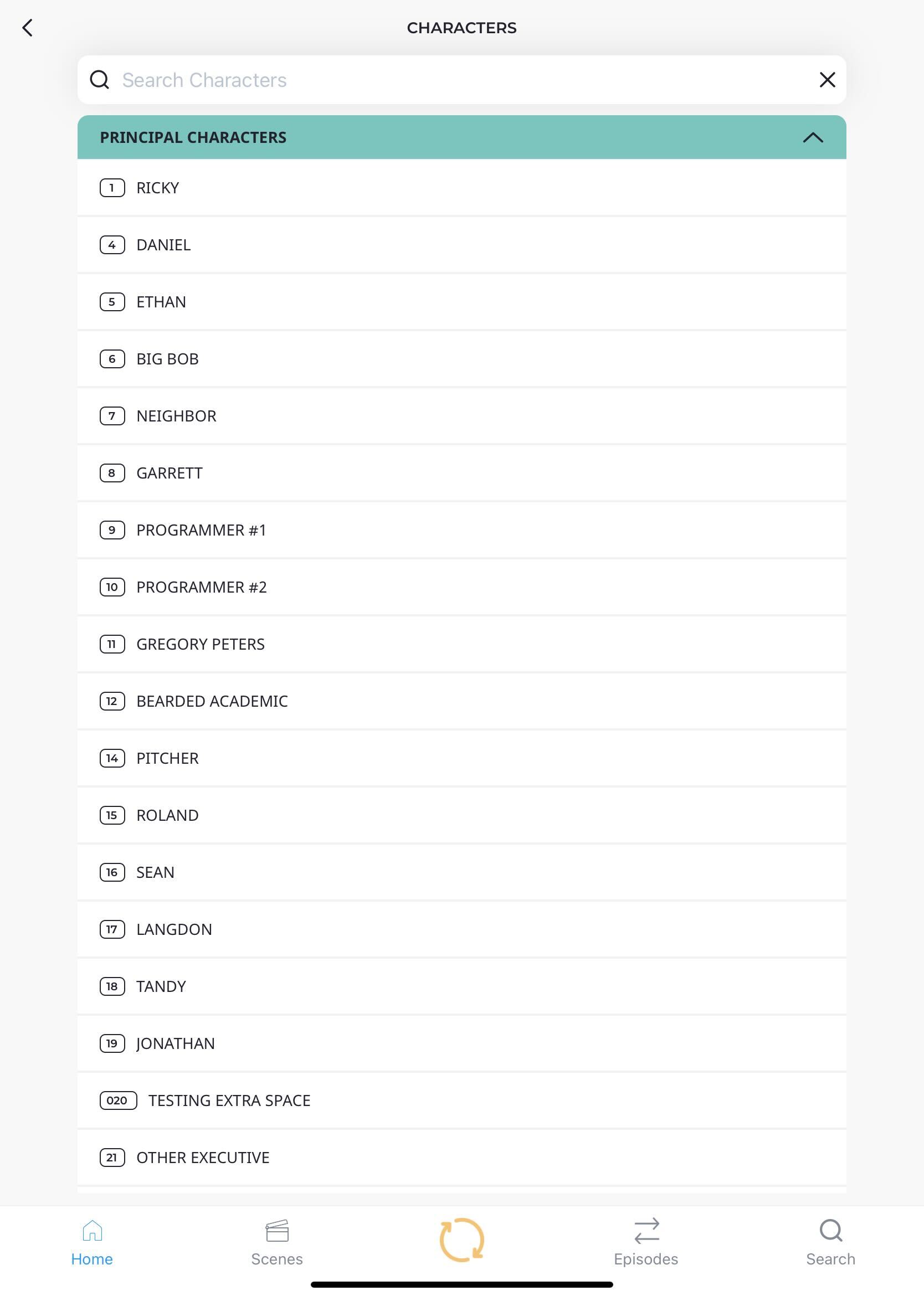 Principal Characters appear at the top of the page and Background Characters below. Principal Characters are listed in order of Character number, and Background Characters are listed alphabetically by name and display the overall count. Tap a Character name to go to the Character View page where you can view additional Details.
If you are working on a shared breakdown, basic Character information is visible to multiple departments.
Note: You can collapse or expand the list of Principal or Background Characters by tapping the respective header.
Viewing Characters on a Traditional Episodic Production
If you're working on a traditional episodic production, the choices in the Episode Selector determine which Characters display on the Character Index. To view Characters across your entire production, select all episodes in the Episode Selector.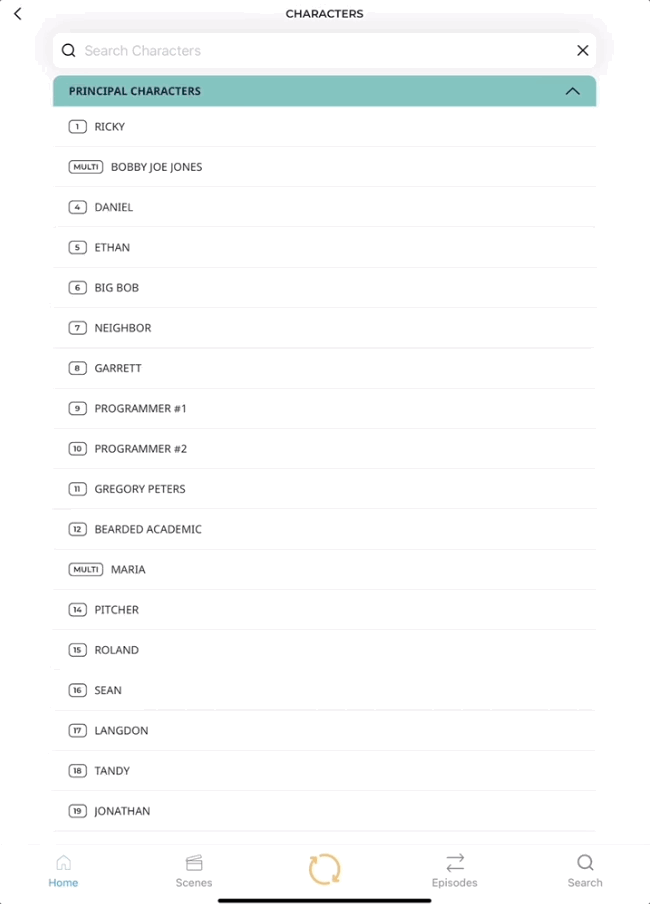 ---
Editing Characters
Users with the Edit Scenes and Characters permission can edit Character details directly from the Character Index. To do so, swipe left on the Character, then tap the Pencil icon.
You can edit the Character Number, Name, Actor, Gender, Age, Description, and add additional episode(s) in a traditional episodic.
Pro Tip: You can also edit Character Details on the
Character View
page.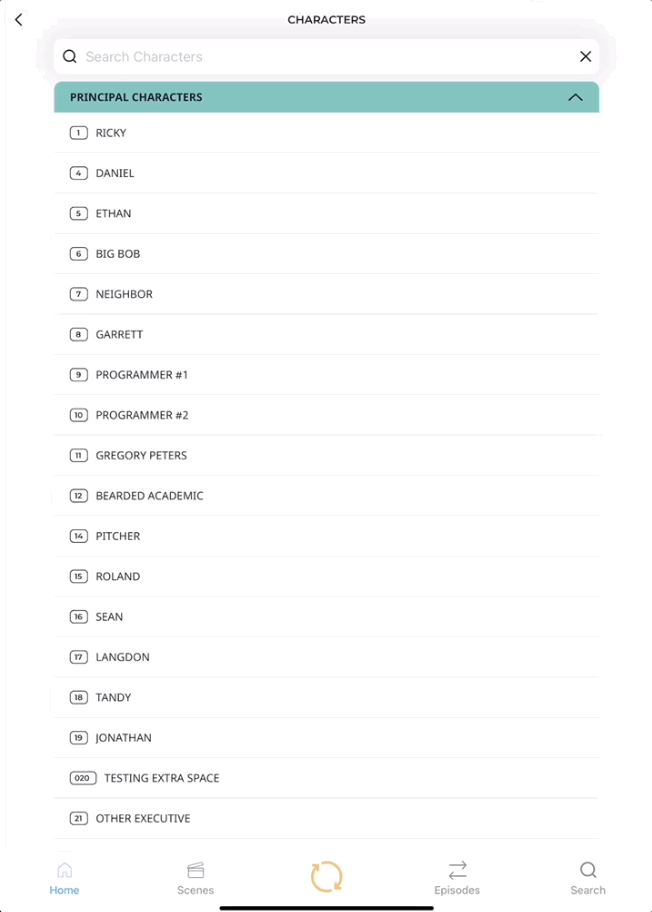 Note: Once you've added a Character to an episode and synced your device, you will not be able to remove them from that episode on the mobile app. If you need to remove them from episodes, do so on the web app.
---
Searching/Filtering the Character Index
Enter a Character name or number in the search bar at the top of the page to quickly filter the list of both Principal and Background Characters. This allows you to find Characters without scrolling the entire Index.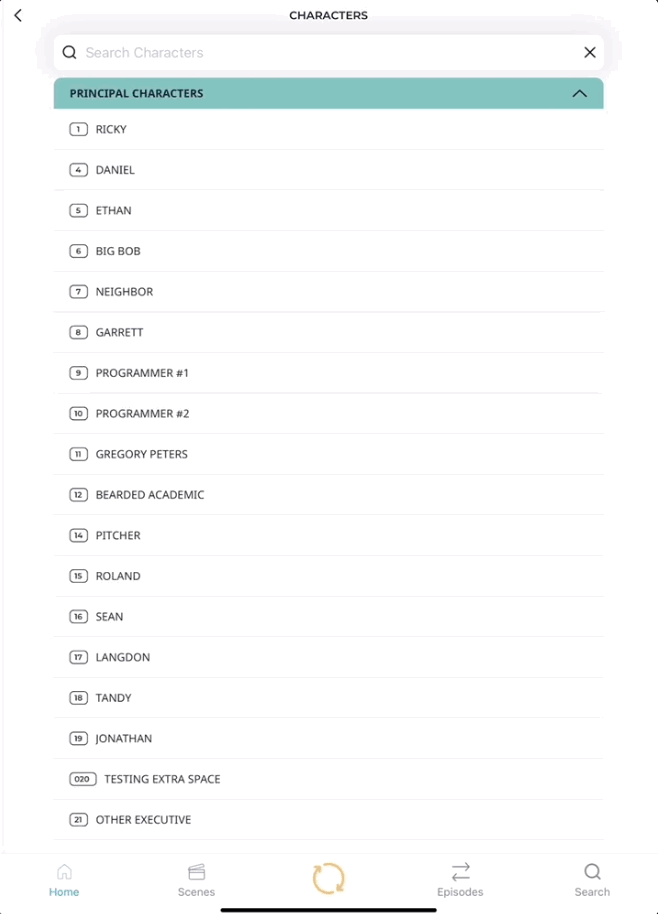 Pro Tip: If your search result isn't producing accurate information, you can reset the way the app searches to improve results. Tap Home, tap Help, then tap the Reset Search box.